Handpicked by Johanna – Kerafreak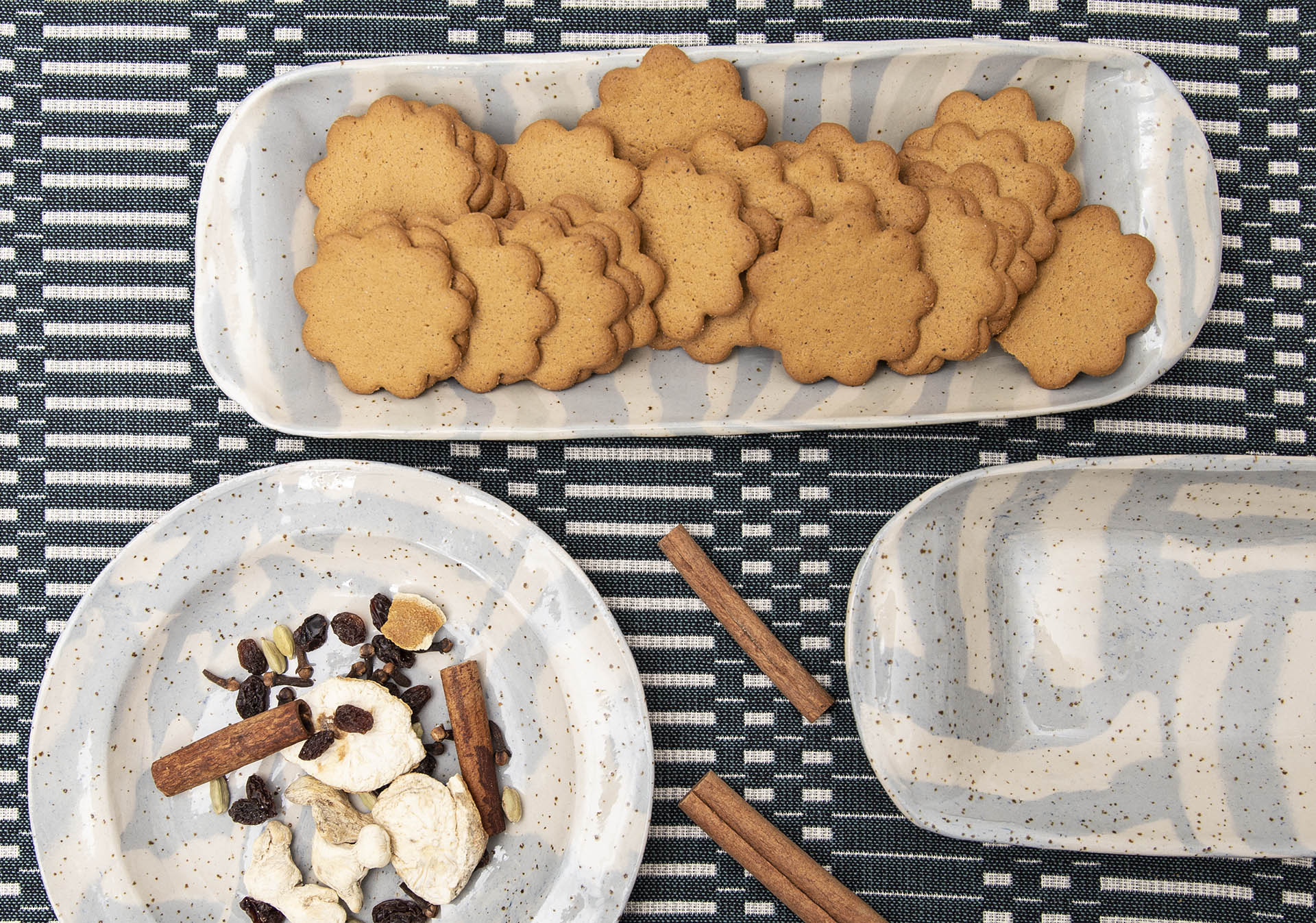 This year, handpicked by Johanna, presents flower pots and plates by Kerafreak. The Kerafreak items are part of the Christmas display in our Lasipalatsi store and are made by potter Eva Lang in her workshop in Pohjankuru. Eva and Johanna are cousins.
Kerafreak's formal language is regularly irregular; dots, bubbles, stripes and squares are repeated on different surfaces. Each dish is individual, creating a warmly atmospheric table setting. The hand, leftovers and chance have their influence, but Kerafreak's style is still recognisable and consistent.
"My work has an uneven style, I always make variations of products in different sizes, colours, patterns or shapes. In this way, I imitate the regular irregularity of nature, and that is the heart of Kerafreak." "Nature; plants, rocks, stones, trees, forests, sky, clouds, rain, snow, sun, moon and stars are always present in my work and the starting point of my creativity."
Eva mostly uses light-coloured high-fired clay, with or without spots, in her work. Spots are lava crystals in clay that contains iron, among other elements, giving the surface a personal and lively look.
"I colour some of the clay with pigments and stack the rolled blocks on top of each other. When the dyes mix, a marble-like pattern is created. The original Japanese technique is called Nerikomi." Eva explains.
Eva glazes the dishes with a transparent glaze at 1250° C, which makes them durable for everyday use. They are dishwasher proof and can be used in the microwave or oven. The dishes do not release any toxic substances and are therefore safe to use.
The flower pots are thrown and glazed according to Eva's own recipe. The blue pots are coloured with cobalt and the green ones with copper. The ochre stripe is made with iron.
"I'm a ceramics freak – I'm crazy about ceramics. The best thing about my job is that I can express my creativity freely and make original objects for everyday use." Eva sums up.