Handpicked by Johanna – Udumbara clay pottery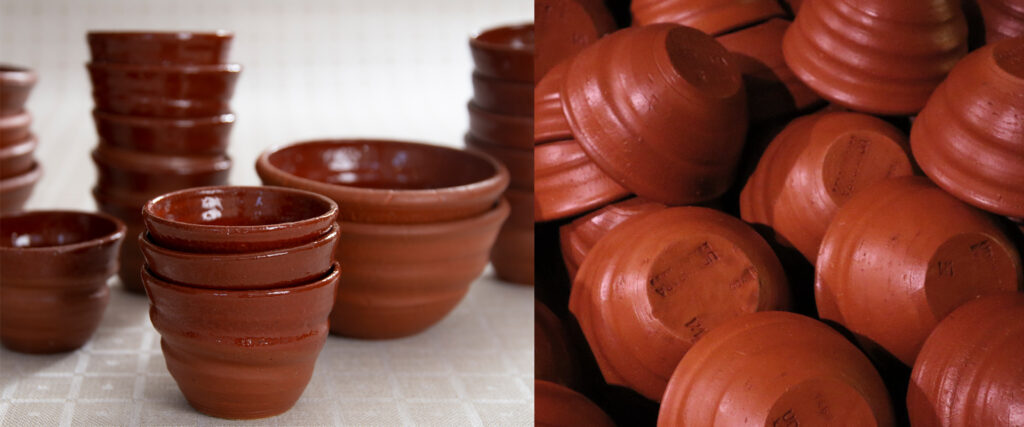 Handpicked by Johanna has become a Christmas tradition. The idea of ​​the handpicked selection is to highlight a craftsman or artist whose work in some way appeals to Johanna Gullichsen. This year, ceramic artist Eva Spoof's Udumbara brand is in turn.
Spoof has crafted a batch of Arvo cups and porridge bowls for 2020 Handpicked by Johanna. The friendship between Gullichsen and Spoof dates decades back. Gullichsen's staff has already had a few occasions to get to know the secrets of clay at the Udumbara studio in the Kallio district of Helsinki.
Eva Spoof uses domestic natural clay in her work. "I use the term wild clay because otherwise Kultela clay is easily mixed with industrially produced foreign clays. Kultela clay comes from the Oja field, in Somero, where Anu Pura and her family dig it." Spoof says. Only 4% of local sand is added to the clay, which gives the clay a more structured character.
Each Arvo bowl is unique. Spoof does not measure while throwing, she weighs the clay for each bowl. 550g of clay is used for each Arvo bowl. "I first made Arvo bowls in the autumn of 1999. In the summer, I had participated in the Somero International Ceramics Symposium, where I got to know Arvo Kankare, the owner of the Kultela brick factory. Under his guidance, I started experimenting with the use of domestic clay. I had studied ceramics for 5 years, but had never tried Finnish natural clay!"
Natural clay has not always received the appreciation it deserves. It is never wholly homogeneous but varies continuously. The clay cracks easily, therefore it must be allowed to dry slowly, and it is difficult to fire. Yet, the rooting, almost sacred feel it gives is worth the effort.
Spoof is an avid tea enthusiast and has learned tremendously about tea while working in China. Wild clay shows its' full potential in the tea ceremony, as the mineral-rich and porous material of the container enriches the taste of tea.
The most beautiful and precious objects, delighting our daily lives are the ones made with love from local materials.