Lokal Koti, authentic luxury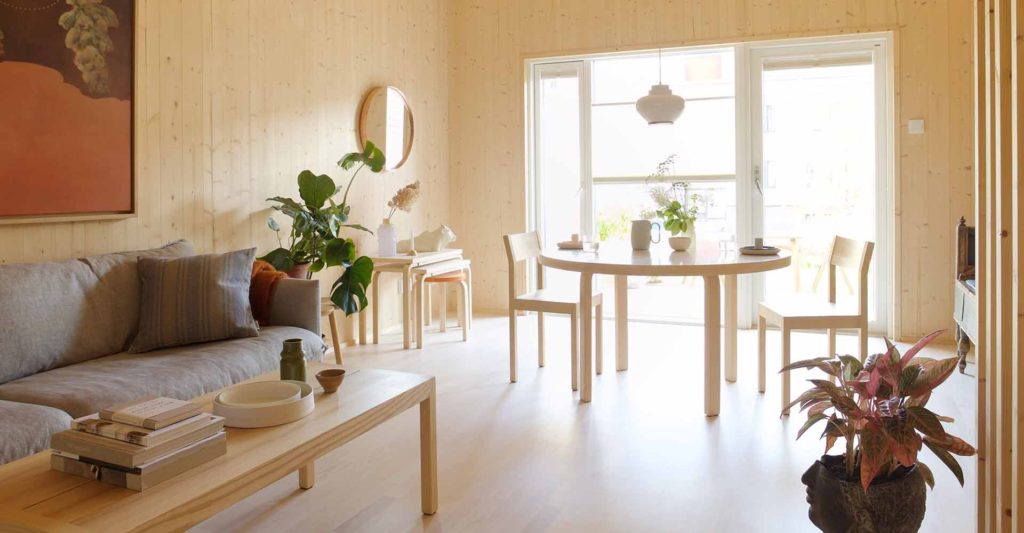 In September 2019, Galleri Lokal furnished a townhouse apartment in Laajasalo in Helsinki with Finnish design and art. The townhouse is a Finnish example of CLT-wooden house building technology. There was a variety of interior textiles by Johanna Gullichsen in the apartment. Interior designer Hanni Koroma helped create the harmonious atmosphere that prevailed in the apartment.
The time we spent in Local Home got one to ponder what is luxury. One thrived there; it was easy to sink into the soft couch, wrap yourself in a blanket and be one with the room. It was a pleasure to drink coffee from hand-made coffee cups and, in peace and quiet, to look at the carefully selected works of art. The mind rested as the gaze wandered over the wooden walls and the furniture made of natural material. In addition to being able to feel the authenticity and beauty of the materials, you could also feel the good scent of the objects.
It was also pleasant to meet people and work together in the space. It was easy to stay focused. The amount of objects in the space was just right. There was everything needed, but nothing superfluous. The space was both interesting and harmonious.
In our world so full of products, it is a true luxury to be in a room that breathes and where you find balance.